This is a very interesting monitor. It has a really big display with a native resolution of 2560 x 1440. It uses white LEDs for backlighting so it can support sRBG but not the wide Adobe color space. It has two 5 watt speakers, 2 usb 3.0 ports, 2 usb 2 ports. For inputs, it has VGA, HDMI, display port and DVI-D. The color calibration is a bit off, but there are enough adjustments to fix it. The resolution is similar to a 24 inch monitor with 1920 x 1200, which I consider to be a feature. The 4K displays have tiny pixels, making most text, and graphics too small.

The controls are far more advanced than my older Dell 24 inch monitors. BenQ does not specify what the resolution is through the VGA inputs. It turns out that the maximum resolution is 1920x1080. I contacted BenQ and they acknowledged that it was an oversight not to specify the VGA resolution, and that 1920x1080 was the maximum resolution. I was really hoping that the VGA inputs would support a higher resolution, like the older Dell 30 inch displays with VGA inputs. Though VGA isn't popular for modern computers, it is quite popular for enterprise KVM switches, like the one I use to attach 6 different computers to the monitor. Since BenQ considers this a professional monitor suitable for CAD/CAM and Animation, I would expect better analog resolution. At least their tech support people got back to me quickly and admitted it was an oversight not to mention the resolution.

One feature is that the monitor rotates from horizontal to vertical. There are applications where this is handy. The input connections are on the right side of the display, though the power and USB inputs are on the bottom side of the display. I think it would be better if all the inputs were on the bottom of the display. I also think it would be better if the monitor color calibration wasn't so screwy and it didn't requite so much tweaking to get decent color.

After using the monitor for a year, I have some updates. First, using the VGA input, the 'auto adjust' feature doesn't work very well. Sometimes I have to switch video inputs in order to get a proper display. Second, and worse, the soft buttons on the front sure are cool. Unfortunately, they don't always work. The worst is the video input. Sometimes it shows the video input selection menu, sometimes it shows the connectors so you can choose the video input. And often, it does nothing. If you press it 10 to 20 tines eventually you get something that can be used to switch video. No doubt I should configure the dedicated remote to allow me to switch video input. My dells with physical kens never had any issues switching video.

A few weeks ago, the VGA plug and play signal stopped working. I verified this by using a known good VGA cable and a laptop. So I contacted BenQ. They provided me a shipping label and I sent it back. They had the monitor on their bench for a week, and they returned it fixed. Unfortunately, it was not fixed. The monitor is detected as a generic non-pnp monitor. I contacted BenQ to find out how I can get a working monitor. Fortunately, it is still under warranty. After another call to BenQ the tech said that they tested the digital inputs but did not test the VGA input. I thought this odd, as I reported the problem with the plug and play signal being broken on the VGA input.

So BenQ said they would replace the monitor on Tuesday. This is great news, s the new one should work perfectly. A week goes by, and no monitor appears. I call them up and ask what is going on. They say they don't have any 3200 monitors in stock, but didn't think to mention that to me. They said how about a 4k 3201 monitor. I asked if it had VGA input, and I was assured it did. I asked if it had DVI input and I was assured it did. I said sure I would like a 4k monitor. This is even better. A new monitor, and higher resolution. When I get home, I discover though the monitor has 2 HDMI inputs, they are version 1.4 not version 2. Version 1.4 only supports 4k at 30 hz. But no biggie. I also discover there is no VGA input. I thought that odd, as the reason I sent my monitor back was a problem with VGA. Surely the BenQ tech support person would know what inputs the 3201 has. But it turns out that I am right and they are wrong. The 3201 does not have VGA inputs. It does have 5 inputs, which is one more than the 3200. I send them an email asking how I am supposed to use the VGA input when it is not present. I find out the unit did ship on Tuesday because Wednesday FedEx tries to deliver the monitor, but nobody is home. BenQ did send me a tracking number, but they did it Wednesday around 9:30am, after I left home. So I call and ask how I will get VGA input. They suggest a VGA to display port or HDMI adapter. I ask for a specific recommendation, but they don't have one. They do say they are available from Newegg for $13.99. It turns out that they are wrong again. The adapters are closer to $25 from Newegg. Still cheap enough if they support plug and play. We shall see how it works when it arrives.

So I set up the new monitor, and packed up the old monitor for shipping. BenQ said they would include the return label on the outside of the new monitor box they shipped to me. They did not. I called BenQ and I started telling them I was having a hard time shipping the old monitor back. Before I could describe the missing label, they told me the shipping label was not present. I asked how they knew, and they said the problem has happened before. They did email me a return shipping label. Clearly someone that should have included the label slipped up. Their process is clearly insufficient.

I think BenQ is trying. Their product had a real problem. The tech didn't seem to understand what needed to be repaired. They sent it back with the same problem. They did try to replace it, but it was out of stock, and they didn't think to mention that to me, until I called a week later. They did upgrade me to a newer monitor, but said it had a VGA input when it did not. one would think they should know their products better. I have never had an issue with any other flat screen monitors I own. I have some Dell monitors that are 6 and 12 and even 15 years old that work flawlessly. I have a cheap Soyo that has worked fine for about 9 years. I cannot recommend BenQ due to poor reliability and poor technical support. If I needed a new monitor, I would likely get a Dell. Two friends bought the Philips 40" monitor. One worked flawlessly, the other needed to be returned twice before they got one with no stuck pixels.
This monitor replaced my BenQ BL 3200 PT monitor. The BenQ people told me it had a VGA input, which was incorrect. They also told me that the resolution of the DVI-D input was 2560x1440. They were also incorrect. The DVI input resolution is 3840x2160 at 30hz. This is barely usable but when you move some graphics item, like a check box, it tears and looks like it is moving in slow motion. Using Windows 7, it is easy to set the resolution to 2560x1440, which will change the refresh rate to 60hz. On linux, I have been unable to lower the resolution using the display configuration utility. I sent in a bug report for that. Using xrandr -s 2560x1440 I can set the resolution to something reasonable. So everything is tiny, and happens in slow motion on Linux. Perhaps a proprietary driver will fix the issue. The HDMI inputs are 1.4, not 2.0, so they also have 4k 30hz refresh. For some reason my Raspberry Pi HDMI output is detected as 1920x1090, and looks fine. I think the HDMI inputs should be 2.0, since that standard has been around since September 2013.
The 3200 has 4 inputs, VGA, HDMI, DVI-D, and DisplayPort. The 3201 has 5 inputs, DVI-D, two HDMI, DisplayPort and mini DisplayPort. Only the DisplayPort inputs will do 4k at 60hz. The on screen menu is a bit easier to use, and larger. Even better, the video selection seems to work much better than the 3200. I really think the resolution of the DVI-D and HDMI should have been made lower to get 60hz refresh. The oddest thing is the 3201 ship-ps with a VGA cable. It can't be used with the monitor, so I am baffled why it is included.
It turns out that the video input selector works just as poorly as the BenQ 3200. Sometimes it shows the video input selection menu, sometimes it shows the connectors so you can choose the video input. And often, it does nothing. If you press it 10 to 20 tines eventually you get something that can be used to switch video. I really like my simple Dell 2405 which has a button that cycles through the video inputs. It always works. Really boring, which is a feature, rather than the adventure that the BenQ monitors have for video selection.
So what do you do if you have a nice commercial grade KVM switch like I do that outputs VGA signals? New monitors often do not have VGA inputs (like my BenQ 3201). What you do is buy a VGA to HDMI adapter. I wanted one with a make VGA connector, as I already had a high quality VGA cable. It would have been nice if it had a HDMI cable built in, but HDMI cables are cheap. The 'Mini" is a bland white box about 2 inches by 2 inches by 3/4 inches. It has a mini usb connector which is used to power the analog to digital converter inside. The computer detects it as 'VGA TO HDMI'. It seems to support plug and play, as all of my computers know what the resolution of the display is. The output resolution is 1920 x 1080, which isn't as good as really high quality VGA can produce, but is is a decent resolution, and all HDMI (non 2.0) will support at 60hz. Best of all, I bought it on ebay from a local seller for $8.23. I could have paid a bit less if I got it from China. It does make a quiet high pitched whining noise, which is less than ideal. Still recommended.
I bought a dell 2001fp. It is a beautiful display. The colors are great. The viewing angle is great. The display can be raised, lowered, tilted and rotated. The only downside is the border is roughly 2 inches wide, so it would if you put two side by side there would be a large blank region.
After my good experience with my dell 2001fp, I decided to buy a dell 2405fp. I read a review showing the color fidelity of the monitor to be very accurate. It has an even nicer picture than the dell 2001fp. Also the border is roughly 1/2 of an inch wide. It even has a usb hub and a card reader built it.
The 2407fp is the successor to the 2405fp. It has DVI-D with HDCP (high bandwidth digital content protection). I have one of these at work. It is a great display. The border is roughly 1/2 of an inch wide. It even has a usb hub and a card reader built it.
I bought this in 2000. In was rated one of the best monitors, as well as a great value. The picture is really quite good. Around the end of 2007 it failed. The power button doesn't turn green when you press it. No idea why. I guess I got my money's worth since it lasted 7 years.
This is an awesome 4k display. I paid $500 for this in 2018. It has two display port inputs, two HDMI 2 inputs, a VGA input and a audio input (for the built in speakers). I actually use the VGA input for my KVM switch. The picture is great, the sound is ok for tiny speakers. The controls are all done with a 'joystick' on the back of the unit. I was able to program it to have the function I use most, which is switching between inputs be quickly accessible. There are no physical adjustments to the monitor such as height or tilt, which is understandable on such a large monitor.
After about 2 years, the monitor has developed serious non-uniformity in brightness. The picture shows the issue. It was taken in a dark room with no flash or other illumination. Ignore the non-gray stuff. There is a really bright spot in the upper right area of the screen. On the upper left area is a less bright area that looks like a big spiral. I cannot recommend this display. No other display I have owned has noticeable non uniformity. I am sure you can measure non uniformity in may monitor, but this is really noticeable using no tools.
I got the monitor replaced under warranty. The new monitor is great. There are no bright spots. There is one slightly dim spot, roughly a centimeter on a side roughly in the middle. It isn't really noticeable unless I run a monitor uniformity test.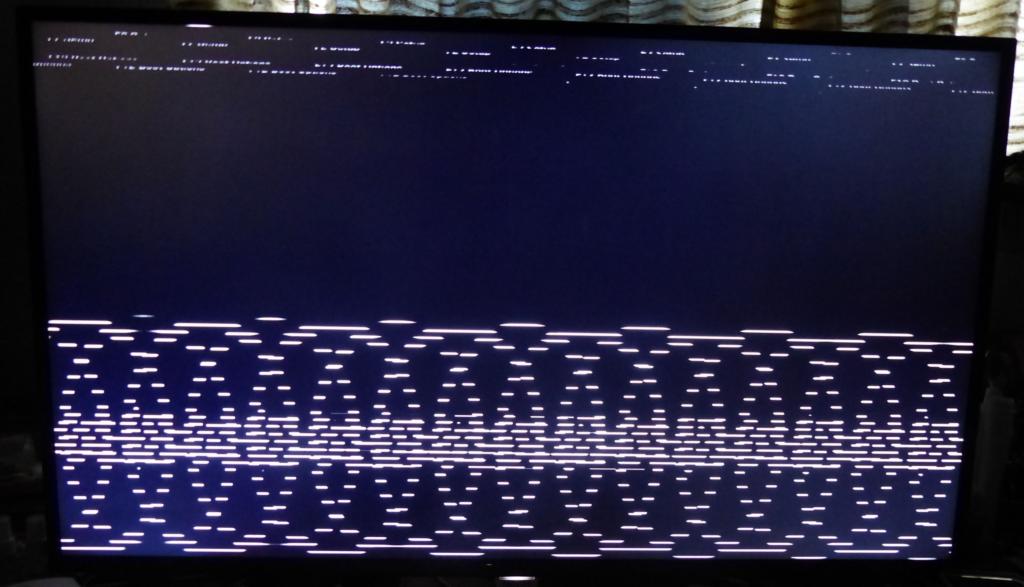 The replacement monitor has an lower serial number than my original monitor. This does not concern me. However, while booting my Dell 3050, I can't see the Dell boot screen. I can't see the multiple OS selection screen either. Both screens have only streaks of white, as seen above. I don't know if I can enter the BIOS screen, but since I can't see when to do that, it would be problematic at best. This is happening on two of my Dell 3050's using the display port inputs. Of course, this worked fine with my original monitor. I can see the boot screen with some other computers. I suspect that the resolution is switching during the booting process and the Philips monitor is unable to display the different resolutions, due to a firmware issue. After the computer boots, the screen is fine, so it is quite unlikely to be an issue with the computer or the cable. I normally run the monitor at 1920x1080 with the 3050's, and I can't imagine the Dell boot screen running at that resolution. I have a support ticket in with Philips.
Philips will send out a replacement monitor. They say there is no way for me to update the firmware. Well, I got the monitor, and it has the same problem displaying boot messages from my dell 3050. However, if you put the display port into 1.1 mode, it will display the messages. Is this a bug with the dell 3050? My first Philips monitor had no problems with it, nor did my previous monitor. Is is a bug with the Philips monitor? Since it works with the DP 1.1 and not with DP 1.2, I am guessing it is a comparability issue with the Philips monitor. The monitor uniformity is excellent. I guess I will have to live with not seeing the boot menu on the 3050 without reconfiguring the monitor. One nice feature, the original monitor would display 2560x1440 on the Dell 3050. The refurbished monitor would not do that, but tried to do 2560x1600. The new monitor works correctly. So that is another plus compared to the refurbished monitor. Philips really needs to test their firmware better, and perhaps have a way for a end user to flash it.
The Dell 3050 also has a HDMI video output. Using the HDMI output, the Philips monitor does display all the BIOS boot screens. Given that two different Dell 3050's have the same behavior, and that they both worked with my original monitor, and given the HDMI video output works with the new monitor, I think it very likely is a bug with the firmware of the new Philips monitor.
This is a low cost 4k display. It has a thin bezel which is nice. I paid $300 for it. It has one display port input, one HTML 1 input and one HDMI 2 input. The stand allows you to tilt the display. The controls are on the back of the display. The power cord is a medium sized wall wart, rather than using a standard IEC power connector integrated into the monitor. When I first set it up, I got no video using display port. I tried HDMI and got a picture. It turns out that the display port connector was not fully seated, which was not obvious. I think the connection to the monitor should have more positive engagement. It has no audio, which would be a nice to have. It also has far fewer inputs than my Philips. A decent monitor at a decent price.
Soyo has a questionable reputation for poor rebate processing, and poor support. The Soyo was on sale for a crazy price of $300. I read a few reviews of this specific display, touting its good color, quick response, wide viewing angle, etc. I decided to buy it. After using it for a few days, the picture became narrow, with a roughly 3 inch border on the left side and a 1 inch border on the right side. I didn't know what to do. I tried everything. I called support. They had no idea. I called support again. The new support person was very knoweledgable. After going through a long diagnostic procedure, he finally suggested unplugging the power cord from the display for a few hours. I was quite dubious, but did it. It fixed the problem for a while, but then it came back. I have read elsewhere that this problem only affects the analog input. I tried the dvi input. It is working so far. I don't know if this is a defect with my monitor, or a design defect. I suspect it is a design defect.
I now realize that the dvi input makes a variety of digital artifacts on tne screen. I am not 100% sure if it is the video card, or the monitor, but in either event, the monitor isn't working well. It does this only sometimes, and hasn't done it lately. I think it was a loose connection somewhere. I need to use analog inputs quite often, sometimes with my KVM switches, and sometimes while testing computers. Having a monitor with unrelaible analog input is unacceptable. The buttons on the side are quite unintuitive and the owners manual doesn't explain them clearly. I guess I have been spoiled by the dell monitors. The stand for the monitor is pretty flimsy and isn't adjustable either.
If you have comments or suggestions, Email me at turbo-www@weasel.com
Created with gnu emacs and template-toolkit, not some sissy HTML editor.
No Java or javascript needed to view my web pages. They both have significant security issues.