Suspension

Bumpers

Exhaust

Electronics

After scraping the underside of my CSX numerous times on my offroad excursions, to the point where I had to replace the 'K' sub-frame, I decided I wanted a 4 wheel drive vehicle. The question was which one. I did lotsa research. One requirement was that I be able to sleep in the back in reasonable comfort. Now one can sleep in almost any car that has reclining seats, and I have done it. I decided I wanted some comfort. I am 5'11" or so, and no mid sized sport-utility was large enough. I tried the Toyota 4runner as well Jeep Grand Cherokee. I am sure I would fit in the back of a Damler-Benz Unimog, but the top speed around 50 MPH was unacceptable for someone named 'turbo', as well as for cross-country trips.

So I decided that I needed a pick-up truck. Plenty of room in the bed to sleep, hence the name 'bed'. A good thing, as pick-up trucks are notably cheaper than so called 'sport-utility' vehicles. No pickup was available with full time 4wd as well as a low gear in the transfer case, which is something that I wanted, after seeing the Grand Cherokee in action. I had humble needs. I needed something reliable (after seeing all the problems of a friends Grand Cherokee), gobs of power, terrific traction, and great ground clearance.

It turns out that the Tacoma V6 3.4 liter has 190 HP, which is a higher power-to-weight than anything except a Syclone (which didn't have a low in the transfer case). It also turns out that the Tacoma can drive over a 12" thick log (it doesn't have 12" of ground clearance around the tires. Some friends have had Toyota trucks and except for the 3.0 V6 head gasket fiasco, they have been quite reliable. So I decided to get a Tacoma. Of course they were not available with the options that I wanted. I wanted AC, manual windows, manual locks, bucket seats, the all weather guard package (heavy duty battery, starter, wiper motor, rain channel windshield), 31" wheels, manual hubs, xtra-cab, and ABS.
It turns out that ABS does not shut off as far as I can tell, when in 4wd. I also really wanted the Toyota *locking* diff (this is an electric locker), because the LD option is merged with the 4WD. 4WD is a pox, and it means 4 wheel demand. What that really means is an ADD aka automatic disconnect differential. The front axles are always turning, and there is some vacuum-like device the hooks everything together when the time is right. I wanted a standard diff case in the front so I could one day put in a real diff, as well as manual hubs, so I would *know* when things were hooked up.
So how did I get the options that I wanted? Drive to Alaska or some civilized place with reasonable options? No, I ordered the truck. This is a very tricky process at least for most Toyota dealers who are basically clueless. However, wherever there are morons, someone is bound to stand out, and (with some help) I was able to find someone who was competent, in a sea of morons. See Car Dealers for more details.
The truck is not perfect. There is some wind noise (probably from the factory air deflector). The pedal makes an odd noise when the cruise control is on, and it is not under tension. Overall, I am quite happy with the truck.
Well, all things wear out, and so do shocks. After about 60,000 miles the Bilstein shocks wore out. Since they have a lifetime warranty against wearing out, I got new ones. If you provide your credit card, they will ship the new ones before returning the old ones. It was a bit of work to replace the struts in the front. I went to a respected tire shop and they recommended KYB shocks as they are stiffer. The new shocks work fine, but the ride is a bit soft. If I did it over again, I would get KYB shocks.
I have a 1997 Toyota Tacoma 4wd with a V6. The new ones can be had with the "TRD Off Road Package". Sounds pretty serious. From what I can tell, it has different springs, Bilstein shocks (not the heavy duty ones, but lighter weight ones, a locking rear diff, and a few other goodies. I decided that I wanted the Bilstein shocks. Everyone has heard of them. They are supposed to be the best. After all, Ivan "Ironman" Stewart likes them, which must make them good. Now every picture I have seen of them looks pretty similar. A yellow body, and a blue boot that has accordion like pleats and is sealed at the bottom. Sure looks sexy.
Bilstein also makes high performance shocks, that are "upside-down" compared to conventional shocks. That is, the bare shaft is at the bottom, and the part with the oil in it is at the top. This minimizes unsprung weight, and is way sexy. Bilstein shocks are used on the Corvette, Porsche, and Ferrari.
So what do my lowly Bilstein shocks look like for my Tacoma? Well, the sexy blue boot doesn't have any pleats. And it isn't sealed at the bottom, but open to dust and other nasty environmental stuff. The picture on the box shows the sexy pleats, and the sealed bottom, but the shocks don't have it. And what about the sexy upside-down design? My shocks don't have that either. So I urge all you folks to actually open the box before buying the shocks, you never know exactly what you will be getting.
Above is a picture of what is left of the springs. The hole in the center is where the spring centering bolt goes. The left end of the upper spring is missing completely. Both ends of the lower spring are missing completely. On the upper spring is a plainly visible crack going partially through the right side.
Since I have added a bit of weight to the rear of my Toyota Tacoma (Stout Equipment Bumper, shell, carpet kit, and lotsa junk inside) I decided I needed stiffer and/or higher rear springs. I contacted Downey Off Road who had a 2 inch lift add-a-leaf. It featured ends with some kind of plastic pads designed to rest against the OEM (Toyota) springs, and not make any noise where it touched. It seemed like a good idea, and I ordered it. When I looked through the installation instructions, I decided to have professionals install them. It seemed to me that the springs were too long. I called Downey Off-Road and they said they were designed to fit OEM springs. They said if I returned the springs that I would have to pay to ship them back as well as the shipping I already paid to get the springs. I didn't want to pay about $20 to ship them back. (A friend said I could have called my credit card company, refusing the charges, claiming they were the wrong part and make Downey pay to get them back. I suppose I could have done that, and in retrospect I should have, but I just wanted them in the truck and thought I may have been mistaken about the measurement.)
I decided to take them to my local suspension mechanic. They told me the add-a-leafs were too long to fit on my OEM springs, because they were longer than the spring clips on the OEM springs. They suggested cutting down the Downey springs. This would eliminate the plastic pad, but there was no other way it would fit. Just as I thought.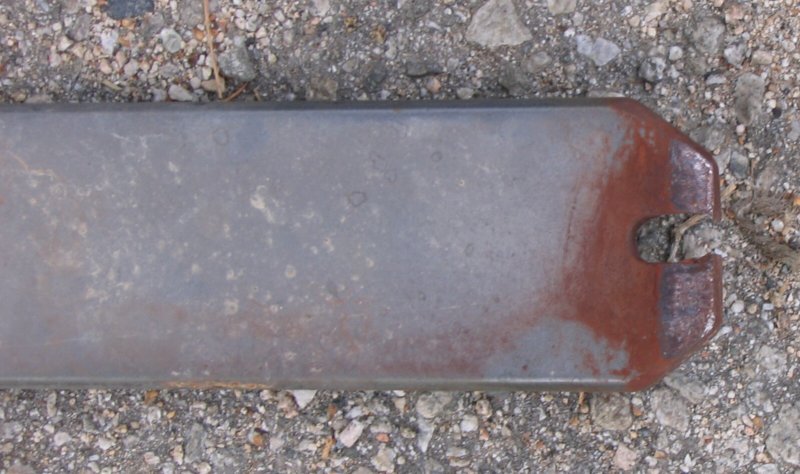 Above is a picture of the end of the spring after being cut. The hole is where the plastic pad is supposed to attach to the leaf.
Well, they were installed, and did make the truck stiffer. It also raised the height. There wasn't any noticeable noise. So I thought everything was good. I called Downey and told them that I was correct, their leafs were too long to fit.
Time passed. Recently I noticed my truck was riding very oddly. When I hit bumps on the freeway going fast, my truck would wiggle from side to side quite a bit. I looked down at the suspension and noticed my rear anti-roll bar end link was broken on one end (not OEM part, since there is no OEM anti-roll bar). I decided to replace my Bilstein shocks with my old OEM shocks. It helped a bit, but there was still too much wiggling. I drove to a friend's place for another set of eyes. He noticed my springs were broken. I said no way. He said yes. Upon further examination, the rear section of the Downey leaf had a massive crack running across it. The front section of the Downey leaf was cracked through and completely missing. The other leaf was cracked through on both sides and missing.
Above is a picture of the ends of the spring where they are broken through completely.
Since the very center of the leaf was present, there was a space roughly 3/8 inches thick raising the OEM spring above the OEM overload leaf. This made the suspension very soft in the rear, as the OEM spring should contact the OEM overload leaf. It was also about 2 inches higher on the side that still had part of the Downey leaf. We took everything apart, and removed the remaining Downey leaf. The car is not as high, but rides as well as it did when new.
I have never heard of a leaf spring breaking unless there was extraordinary events, like a massive crash, a huge fall, or the like. Since the OEM springs are undamaged, I suspect the problem is bad metallurgy or bad heat treating of the spring. Springs are highly stressed suspension members. They can sag a bit during their lifetime, but they should never catastrophically fail.
I will fix the anti-roll bar end link this week. I contacted Downey. They said sometimes leaf springs just break, but they will have their tech guy take a look at these pictures. I would be happy if they refunded me my money (including shipping).
Well, I got a reply from Downey Off-Road.
They said:
"NO WARRANTY

Downey DOES NOT offer a money back satisfaction guarantee. Downey is in the "hard core" off road business. When you modify your vehicle, you are the designer and final manufacturer of the vehicle and we assume you understand what you are ordering.
Downey's official warranty is limited to pre-installation! Downey accepts no responsibility for question installations, negligent driving and / or unpredictable off road terrain.
Thank you,

Downey Off Road Mfg."
Eibach offers a 'Million Mike Warranty' on their springs and anti-roll bars for truck, SUV, and performance car products. All aftermarket shocks that I know of, including Koni, KYB, Bilstein, Gabriel, and others offer lifetime warranties on their shocks. So Downey's lack of warranty is a bit surprising to me. It is clear that their warranty is lacking, so one must wonder about the quality of their products.
My 1997 Toyota Tacoma is a nice truck, but it has a very soft suspension. It comes with a front anti-roll bar, but no rear anti-roll bar. When I bought it, only one company made anti-roll bars for it, Hellwig Suspension Accessories. I bought their rear anti-roll bar. It wasn't very difficult to install. It might cut down a bit on ground clearance around the rear axle. I have seen drawings of Addco's rear bar, and it looks like it would have less ground clearance problems, but likely requires drilling holes in the frame. The Hellwig bar has two sets of big U-bolts that go around the axle and secure the anti-roll bar. The bar attaches to end-links. The other end of the end-links attach to clamps that attach to the truck frame.
I have had the end-link clamps loosen up. I have tightened them down and it hasn't happened again. When I got my Downey add-a-leaf spring installed, the installers managed to damage the end-links. They broke shortly thereafter. I called Hellwig, and they sent me new, longer end-links. No cost, no proof of purchase, just on my word. Years pass. The Downey add-a-leaf spring broke and I removed what was left of it. One of the end-links was broken, no doubt as a result of the Downey add-a-leaf spring breaking. The other one wasn't in good shape. I called Hellwig, and they are sending me new end-links. I plan on fabricating a quick release end-link to increase rear end articulation when driving off road. I will include a description and pictures when it is done.
Hellwig has great customer support, something companies like Downey need to learn from.
After my Downey add-a-leaf springs broke, I realized I needed a good solution. Rather than another add-a-leaf, I decided to get some high quality leaf springs. I bought Wheelers Off Road Tacoma 5 leaf springs. I also bought the bushing ans sleeve kit which was an extra $25. They just wrapped then with a shipping label, and shipped them. Given they are strong steel, I suppose there is no way they could be damaged. They have proven to be quite robust and I have had no problems with them. Highly recommended.
The OEM rear bumper is quite sturdy, especially compared to the front bumper. If I recall correctly it even has a place to put a trailer ball mount. I wanted a more robust bumper. I bought a Stout (which is no longer in business). It has a removable rack. With the rack it weighs about 190 lbs. I ordered it with a removable trailer hitch. When it arrived, the trailer hitch was welded onto the bumper. I told them, and they made me a new bumper. My removable rack can hold 4 NATO gas cans or 2 cans and a spare tire. The license plate holder light isn't very well engineered. One day, I will do something about it. There are two 'cans' where the brake/turn/tail lights mount. I think they are made of 1/4 inch thick steel. You could jack the car up on them. I got LED turn/brake/tail lights, which were somewhat rare and expensive in 1999, though common now. There are also two mounts for U shaped towing hooks. The mounts are solid steel, about 1 inch x 3 inches in cross section, and are welded to both sides of the bumper. A car rear ended me, and one mount went through the hood, though there was no damage to the bumper. That is why I bought it. The bumper mounts to the truck frame rails. There are two holes on each side for the bumper mount holes, and two other holes that mount to the underside of the frame rails. One bumper mount hole is a bit off. I really should fix it, but I just put a smaller nut and bolt in it.
TJM Products, Australia makes heavy duty bumpers (among other products). Since my Tacoma front bumper weight under 10 lbs including the plastic stuff below it, I thought it would be a good idea to get a heavy duty bumper. TJM's main competitor is ARB (also from Australia) and they don't make a bumper yet for the Tacoma. ARB bumpers have a reputation for being even heavier-duty, as well as heavier. I didn't really need a super-massive bumper, so the TJM seemed like a good idea, besides, they were the only guys that made a reasonable bumper...
You see, in Australia, there are some Very Large Rodents, which are a bit of a pest. They breed like rats, and they sometimes get in the road. Sometimes cars hit them, and are damaged as a result. So the resourceful Australians make "roo bars" to protect their cars from the pesky Kangaroos.
Well, it was just my luck, because I read some email on Mar-11-1999, about some used TJM bars being sold for cheap by Hella USA, the USA distributor for TJM. I could care less about a few paint chips...
I called and ordered a T15 bumper in steel. It didn't have the "wing extensions", so I paid some extra, and ordered some new ones. I also ordered the roller fairlead and the winch frame, thinking I was getting a good deal and that I might put a winch on the bumper one day.
Well, the bumper arrived Mar-27-1999, but there were no instructions, no bolts, no roller fairlead and no winch frame. I sent Hella USA some email asking for the missing stuff. Now this is a substantial bumper, and I didn't want to take a guess as to how safely install it.
Finally on May-06-1999, I got the instructions, but only 2 of the 3 pages. Also I got some bolts, but not all the bolts that the instructions called out.
On Jun-05-1999 I got most of but not all of the missing bolts, so I decided to bolt my new bumper on. Imagine my surprise when I found out that the mounting adapters didn't fit my truck. I had removed my bumper (which is held on with 4 small bolts, and 2 tiny bolts at the ends. I also removed quite a bit more stuff, but no matter how hard I tried, I couldn't get the mounting adapters to fit. I finally got 3 of the 4 bolts in on one side, but the adapter was crooked, and was clearly not right. I determined that I definitely had the wrong part. I sent Hella USA every number stamped on the mounting adapters as well as on the bumper.
They determined that the mounting adapters were not the ones for my Tacoma, and sent me the right ones.
On Jun-17-1999 I bolted on the new mounting adapters, and found they fit perfectly. I was over-joyed. I would have my bumper! I grabbed the bumper, and started to mount it on my Tacoma. But wait! The gap between the vertical plates that the bumper mounts to were very different from the plates on the bumper! The plates on my car were 31.5" from each other. The plates on the bumper are 26" from each other. It doesn't take a rocket-scientist (which I happen to be) to determine that something is wrong. So I called Hella USA (again). They suggested that I turn around the mounting adapters. After awhile playing around, it was clear that they only mount in one way.
So I called them Jun-18-1999, and they claim that TJM Australia says that everything should work just fine. Clearly those folks have been in the sun in the outback for a few days too long. Hella USA says they will call again, and clearly explain exactly what is going on. In the meantime, I still have my OEM flimsy bumper in place. Its been over 3 months since I ordered mine, and I still don't have the right parts. And I still don't have the other parts that I ordered yet.
Well they said they will just send me a new bumper. It finally arrived Sep-17-1999. For some strange reason, one of the mounting adapters that I thought fit perfectly, didn't line up on one bolt-hole. Fortunately, they sent me 2 mounting adapters that did fit perfectly. It did take a bit of drilling to make my license plate fit, and the license plate adapter that came with the winch frame didn't fit my California license. Fortunately, the license plate isn't very thick...
Now I have a nice new TJM bumper, properly mounted to my Tacoma. It weighs about 50 lbs. So everything must be swell? Well remember the roller fairlead and winch frame? The winch frame did come, along with the correct bolts, but there was no roller fairlead. I called Hella, and they said that they came together or something (I wasn't really sure). I said that's nice, but I bought and paid for a winch frame as well as roller fairlead. They said they would see if they could find one lying around, and that there weren't sold separately anymore.
They also said that I got a new bumper, rather than a used bumper (which is true), even though it did take 6 months for the correct one to arrive. So I may not get a roller fairlead, even though I paid for it... (Postscript: I never got the roller fairlead).
I decided I needed some headers for my 1997 Toyota Tacoma 4wd with a V6. After all, the stock exhaust was nasty looking, and everyone knows that headers help power. So I ordered the Edelbrock headers, since the TRD headers were always a few months away from production (they are supposed to be available now). The Edelbrock headers are also stainless steel, which is very durable.
For those of you that don't know about Edelbrock, they are one of the first and largest makers of performance parts for cars. They started making intake manifolds and now make a wide variety of car performance parts.
So I bought the headers from Summit Racing, one of the largest mail order parts suppliers. I got the headers, and decided to have a muffler shop install them. They followed the directions, and after a few hours of their sweating, I had my headers installed.
Everything went fine for 8 months with no problems, except weird exhaust noises. Everyone with the headers hears weird noises. Its probably the exhaust gas bouncing around in the stainless steel tubing.
I was at a stop light. When it turned green, I pushed down on the clutch to get going, and a large cloud of smoke came out from under the hood on the drivers side. The car stalled, and the clutch pedal was stuck on the floor. I had it towed to the Toyota dealer, thinking it was a Toyota problem. It turned out that the clutch hydraulic line was run under the header, and had wore/melted through. Time for a new clutch line. When I was looking under the truck, I saw that the parking brake line was also melting at the end. But how could this be?
The clever mechanic at Joe McPherson re-routed the clutch line around the top of the header tube, rather than under it. But I was determined to find out exactly what had gone wrong. I drove straight to Edelbrock, and they took a look at it. They said that I had screwed up, and not followed their clear instructions that said to re-route the clutch cable above the header, and to move the parking brake cable further from the header. They were kind enough to give me a copy of the instructions, as well as to fix my car to be right.
Now although I didn't install the headers myself, I do remember reading the instructions very carefully. And they didn't look like the ones that Edelbrock had given me. It turns out that I bought my headers on 5/11/98. The instructions I got were dated 3/97. They are the evil instructions. The good instructions are dated 9/97. I have no idea why I was shipped headers with instructions that were so old, when the new instructions had been out for 8 months.
Now the old instructions don't say anything about re-routing the clutch line, nor do they say anything about re-routing the parking brake. Now the parking brake is a minor annoyance, but the clutch line failing can have very bad consequences, especially if one is out four-wheeling. I didn't see any mention on Edelbrock's web page about this possible safety problem. Now I think that the muffler shop that installed the headers are partially to blame. They should have noticed that the clutch line was touching the exhaust system, and they could have re-routed the clutch line. But they did follow the instructions that they got. So I am now out $300 to have the clutch line fixed, the towing, and the rental car for three days. Summit said they were sorry, and they would give me 10% off on my next order... Like I'm going to order $3,000 worth of parts...
Perhaps this is an isolated incident with Edelbrock, and they really are good guys. They said they were sorry, and they *did* fix my Tacoma after I spent $300 of my own money, and got stuck in gods-country. But they wanted to do what they could. I said I would like a discount on their new, sexy high-performance shocks for my Tacoma. Well, it turns out that they don't make shocks for the 4wd version, since the front shocks are pretty weird. So I asked if I could get an exhaust system for my Tacoma. They said they were sorry, but they were discontinued, and they had sold all they had.
Well, I was doing some minor 4wheeling at Silver Canyon in Bishop CA. The road goes up 6000 feet in 6 miles, which means an average slope of 20%. Of course there are parts that are much steeper. So I was going a bit slowly while the engine was putting out a bit of power. My clutch got very soft (went to the floor with very little resistance) a few times. After letting the car cool down, the clutch got better. I noticed the clutch hydraulic fluid was a bit low...
When I got home, I realized that the Edelbrock drivers side header got quite close to the clutch line and slave cylinder. In fact, after looking carefully, the header pipe actually touches part of the clutch slave. The factory exhaust goes over the top of the transmission, while the Edelbrock header goes below the transmission. No doubt it is easier to route the pipe below the transmission, but it reduces ground clearance, and as it turns out, can cook the hydraulic clutch line.
Edelbrock no longer makes the headers. I checked and the companies that still make headers all route the header over the transmission, to preserve ground clearance and keep the clutch from cooking. I am sure it is a bit of work to get the exhaust over the top of the trans due to clearance limitations.
So what was I to do? I looked to see if I could insulate the header. There is a small amount of room. I probably should buy some heat insulation, but it is pretty cramped. What I did was to replace the hydraulic clutch fluid. It turns out that it is simple DOT-3 brake fluid. As fluid gets old and absorbed water, the boiling point goes down quite a bit. I bought some Valvoline synthetic brake fluid (not silicone based) that is rated DOT-4, but is has 5 degrees lower boiling point than DOT-5.1 brake fluid. (DOT-5.1 has the same boiling point as DOT-5, but uses non silicone based fluid). With a friends help, I bled the clutch. The fluid that came out was pretty dark. After a while, the fluid came out clear.
Hopefully the higher temperature and newer clutch fluid will prevent the clutch fluid from boiling. I think if I replace it every few years I won't have any boiling problems. This raises yet another question about the quality of Edelbrock engineering. They should have realized that the header was too close to the clutch. They didn't make any mention of it. Along with the problems below, one must question buying Edelbrock products.
Once I realized the header touched part of the clutch, I realized no insulation would solve the problem. I called Edelbrock, and they said they don't make the header anymore, and they couldn't help me. Perhaps I will try to pound on the tube and flatten it where it touches the clutch. I am not happy with their customer service, as the header has a lifetime guarantee.
Now if you look at Edelbrock's web page, specifically Import Car Exhaust, as of Jun-18-1999, they still list #5629, which is a cat-back exhaust system for the 95-96 Tacoma. They said they hadn't updated their web page, and they were really gone. Well, after some more checking they found that although their computer insisted that they were all sold, there were a bunch of them sitting in their warehouse.
They weren't sure it would fit my 97 Xtra cab, but I decided to take a chance. I asked them to send me the exhaust. After waiting for over 2 weeks, and not getting the exhaust, I decided to call. Well, they didn't ship the exhaust, because their computer knew they didn't have any left. They promised to ship me the exhaust right away.
So now everything must be right, huh?
No such luck. I got the system, and started to bolt it into my Tacoma. After a bit of knuckle-bashing, I carefully looked over the instructions and the parts. I noticed that I needed a 2.5" exhaust clamp. The bolts on the clamp are metric, and I figure it may be hard to find in an auto parts shop. But they included, on a shrink wrap piece of cardboard an exhaust clamp, two metric studs, and a gasket. The problem was the exhaust clamp was a 3.25" clamp. So it looks like they may have included the wrong clamp on more than just my exhaust.
So I called them, and they were kind enough to send out a 2.5" clamp, like the instructions called for. I got the clamp, and installed the exhaust system this evening. When it was time to install the 2.5" clamp, I noticed that it was a bit smaller than the other 2.5" clamp that they provided. Upon further examination, I noticed a marking stamped into the clamp saying 2 1/4, which I surmised means 2.25". So the clamp they sent me was the wrong one (again).
Well, its Friday night, and I won't be able to contact them until Monday. I sure hope that not too much exhaust gas will leak out in the meantime.
I got the correct exhaust clamp. I bolted together the system. They never said that it would work on a 1997 Tacoma, and for good reason. The exhaust is roughly 4 inches too short. After much violence, I have dealt with that problem.
The mounts to hold the exhaust system in place are not as secure as the OEM mounts. The OEM mounts are steel rod about 3/8" thick or so, with a flared end to prevent it from pulling out. Edelbrock knew about it, because the end of the exhaust has the correct mount. The mount used to hold the muffler on has the correct 2 rods, at the correct distance between them, however there are no flares at the ends of the rod. I sure hope it doesn't fall out.
I finally ended up getting the muffler welded to the exhaust pipe before and after the muffler. This stopped the pipe from getting loose and rattling.
Each incident taken alone can be considered to be a minor problem. When so many incidents happen in a small amount of time, I fear it is a pattern, and not a pretty pattern at that. I used to consider Edelbrock to be first rate. I fear this is no longer the case.
The Tacoma like most Toyotas of the era has really dim, yellowish interior bulbs. I replaced the 2 in the rear mirror assembly with LEDs. I also replaced the dome light with a LED. Much brighter. If I recall correctly, all the interior lights use 31mm festoon bulbs. The dome light has a lot of metal around the bulb. I managed to short out the circuit board of my LED bulb. Be careful not to do that. You can get really bright arrays of 8, 12, or even more 5050 LEDs for the dome light. I have 4 5050s, but if you want something really bright, you could get a bigger array. For my shell, I replaced the bulb in the back with a LED bulb with 13 5050 LEDs. It is quite bright and runs cool. I put a 2 tube fluorescent light in the front of the shell, back around 1999. Now I would use some bright LEDs.
Exterior lights are more difficult to replace with LEDs as they are brighter than interior LEDs. The 4 turn signal lights and the reverse lights are 1156 bulbs. I thought since the turn signals are yellow or amber that I should buy yellow LEDs since that way, all of the light would go through the yellow filter. If I bought white LEDs, only the yellow light would go through. I bought a LED bulb with 24 yellow LEDs. It was pretty dim. It turns out that almost all really bright LEDs are white. I bought a LED bulb with 20 5050 LEDs. It is quite bright, and I used it in my 4 turn signal lights and my reverse lights. One of my front side marker lights burned out. I replaced them with a white LED bulb with 5 5050 LEDs. Nice and bright.
I wanted to replace my brake/tail light. It is a 1157. I decided to buy a red LED, so all the light produced by the bulb would go through the red plastic filter. Though this is a good idea, it turns out that almost all the really bright LEDs are white. Worse, the LED bulb I bought was incredibly dim. It has 13 5050 red LEDs. I ended up getting my money back. If I do replace the brake/tail light, it will be with a bulb with lotsa white 5050 LEDs.
When you replace the turn signals with LEDs, they draw less current. As a result, the flasher relay thinks that a bulb is burned out, and as a result blinks very flash. The LED lighting people call it 'hyperflashing'. The solution is to either have a big resistor that draws lots of current, or to have an 'electronic' flasher relay, also known as a LED flasher relay. The Tacoma has a simple, three terminal flasher relay. You would think there would be a standard pinout and that all 3 terminal flasher relays were interchangeable. You would be wrong. I know of 2 standards. There is the one that is common on ebay called the CF13JL-02, which has a the three pins arranged in a U shape. The bottom of the U is the load. The right side of the U is labeled B+, the left side of the U is labeled E-. However, this is different than the Toyota standard flasher relay which is known on ebay as the CF14JL-02. The bottom of the U is the load. The right side of the U is labeled E-, the left side of the U is labeled B+.
It is easy to hear the flasher relay when it is on. It is not obvious where it is. It turns out that is it located on the back side of the fuse panel, inside the truck to the left of the steering wheel. It is impossible to see without taking the fuse panel out. If you turn the flasher and reach around the back top area of the fuse panel, you can feel the rectangular flasher relay. It is in pretty tight, but with a strong grip can be removed. Once you know where it is, it is straightforward to access.
I decided I needed a decent car stereo. I wanted a good tuner, and the ability to play mp3's. I found out that Blaupunkt (who makes the DigiCeiver) had gone out of business. I tried to search the internet for another FM radio that used DSP based processing. I was unsuccessful. I contacted Brian Beezley, who wrote the review on the Sony XDR-F1HD home DSP based FM tuner, and he pointed out that Sony had a HD radio adapter called the XT-100HD. I thought about buying that and a Sony car stereo to interface it with. Then, after looking around a bit, I noticed that the CDX-GT700HD had a built in HD radio, and seemed to have similar specs to the XT-100HD. Sony doesn't have many specs, other than FM usable sensitivity (8dBf), S/N ratio, and Selectivity, and Separation. I especially like the Frequency Response of 20-15 KHz without any +-db, which makes it useless. Nonetheless, I am pretty sure this is the same DSP based FM tuner as the Sony XDR-F1HD. I bought the unit, and I was able to pick up very weak stations, with a separation of only 200 KHz, which doesn't happen with conventional FM tuners.
As a whole, it is a nice unit. The display is pretty dim overall, and quite dim when viewed off axis. There are a few other nits, like it beeping when you turn it off, and there being no way to disable it. The RDS data is all there, but you have to press a button several times to see it. On the Blaupunkt, it all it all displayed by scrolling. Nonetheless, overall it is the best FM tuner by far for a car stereo. It plays CD's, has a USB port, an aux input port, and the usual features found on a car stereo. Highly recommended.
The SR5 package includes some nice features that I didn't get in my Tacoma. One is a rear view mirror that has 2 map lights. I ordered the SR5 mirror, and ran some wires to the area and wired up the SR5 mirror. Very useful to have map lights when it is dark.
I had my truck bed coated with polyurethane by Diamond Liner. They used quite coarse wire brushes to scratch up the surface paint. There were lots of places where bare metal was visible after the brushing. Then they sprayed polyurethane in the bed. They wore full suits with respirators. I was outside the booth, but I could smell it, and it didn't smell nice. It has held up with no issues, except where a fork lift scratched the liftgate a bit.
I bought a snug-top shell, as it came highly recommended. It is my first shell, so I don't have a lot to compare it with. It is very good overall. The rear window lock and locking mechanism is quite flimsy. If you grab it, and pull hard, it will flex and then open up. It doesn't matter if it is locked or not. After a few years, some paint came off while I was washing the top. A piece roughly 1 inch in diameter. I contacted Snug-Top and they asked when I bought it. I told them. It turns out there is a warranty on the paint, but only on shells roughly 6 months newer than mine. No other paint has come off. It is pretty clear that it was a manufacturing defect. It is a bit disappointing to me. At least they could have send me some touch up paint and instructions to repair it. As it was, I covered the raw area with a sticker. Not very elegant.
I got a carpet kit with my shell. It was a very good idea. There are three horizontal pieces, which can be individually removed, or put at the upper or lower level. The foam padding seems to have compressed a bit over the years, and doesn't work very well anymore. A small piece of wood has come off the bottom of one of the side pieces after getting quit wet due to a leak in the tailgate. I hear that carpet kits are not commonly made any more. Seems pretty dumb to me. It makes it easy to store and organize gear in the bed of my Tacoma.
If you have comments or suggestions, Email me at turbo-www@weasel.com
Created with gnu emacs and template-toolkit, not some sissy HTML editor.
No Java or javascript needed to view my web pages. They both have significant security issues.